Google has announced more changes in "Exact Match" in Google Adwords; variations in word order and function words
[ Back to News Page ]
Dated: 19-Mar-2017
Google has announced more changes in "Exact Match" in Google Adwords; variations in word order and function words

On Friday, Google has announced that Adwords "Exact Match" will be updated soon, including the variations in word order and function words. The matching close variants such as plurals, typos, abbreviations and adverbs will be broadened to include additional reordering and rewording for exact match keywords.
Close variants in Google Adwords helps businesses to connect with the people who are searching for the specific product or services that you offer without building an exhaustive keywords list (despite the slight variations in the way they search). According to Google, this expansion will happen over the coming months and early tests revealed that it may help advertisers to see up to 3% on exact match clicks on average whilst maintaining comparable click through and conversion rates.
Rewording & Ignoring Function Words
With this update, function words will be ignored because prepositions (in, to), conjunctions (for, but), articles (a, the) and other words are included in function words often don't have their own meaning, so these words don't impact the intent of the query. So, function words may be changed, ignored or added, without changing the meaning of the keyword.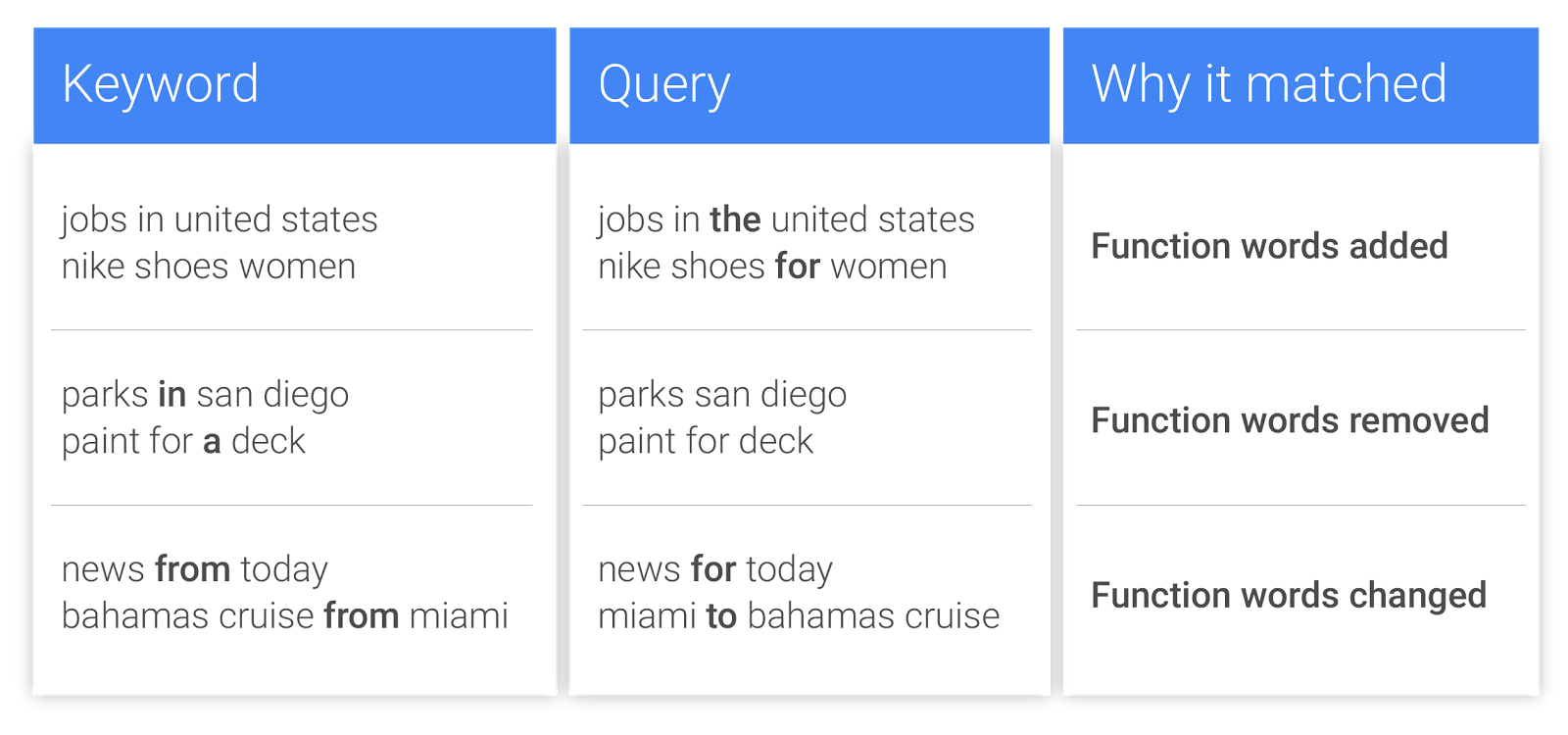 Reordering
Google further explained that the new Adwords Excat Match will also match the queries where two keywords can share the same meaning, having slight difference in the word order. For example, a keyword like ' new cars buy' and ' buy new cars', both have same meaning but the word order is change.

Exceptions
Google stresses that exact match will not add any words to keywords (outside of functional words) that change the original meaning of Keywords. For example, a query like " Chicago to LAX flights" shouldn't match to " LAX to Chicago flights" because the two have completely different intent.
Going forward, use RSLA, search term reports, smart bidding and negative keyword that'll hep you shape your traffic and reduce costs.