Local Business Listing Optimization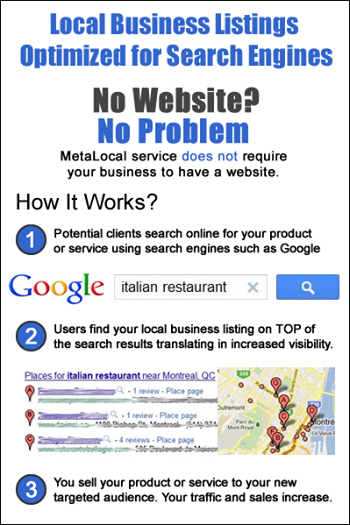 Do you think that you can't reach at top positions of search engines if you do not have a proper website or web page? No! It is not true, and the reality is that you are being searched mostly by local clients. So you need to be seen in the local business listings for Boosting your Business Name. Here it is cost efficient and reliable as alomst all search engines after Google has gone for the listing section, seeing a need to cater the small business units.
Your Target Customers are very near you!
Then why not target your business with a profile building in 'Local Business Listing' that is basically introduced by Google but other search engines are also offering it now. Your 'Business Name' would be optimized in local business listing section on the first pages of major search engines.
The higher ranks will result in better scope of client' visit and then a whole start of business process, to a newer and better level! We are best optimizers of your business in local business listing, and you just need to get registered with us at a very low rate. We are operational from Pakistan but serve many clients from USA, Canada, UK, Middle East along with local ones as well. So you will be seen and get best client percentage with a small investment, and that too with a biggest business spectrum for coming days!
Get Registered in Local Business Listings and Boost Your Revenue!
We have different Local Business Listing service packages that vary according to your business need or type. If you feel it difficult to choose then let our optimization experts do it for you, and we deliver the best SEO practices while working form Lahore of Pakistan. They will analyze your business type, scope and competitors in the local market and ask you to buy a package that suits you in a best way.
Stay in limelight with best optimization techniques that we will apply for you, and enjoy the fruit in the form of best Return on Investment (ROI). Look at the new horizons as how so many people search with their smart phones and tablets, by typing 'Area Name as well. So a profile in Local Business Listing will get you a higher percentage of clients for your products or services!!
Why YOU Need to Be in Local Business Lisitngs
Now people search their required products and services with area names
It is cost effective as you do not need to build a website
Local searches will show you to people who really need you with great SEO Strategies
Top Profile Names are shown on Google and other search engines with addresses and contacts
Google Maps Listings will enable your Business Place to be targeted with exact spot
So you can be seen and heard with best kinds of optimization services that will create a marketing buzz for your product or services. To know more about our different SEO Services and about Local Business Listing Optimization, you can contact us via Email: info@seo.com.pk or Say Hello! +92 423 5173773