Our Team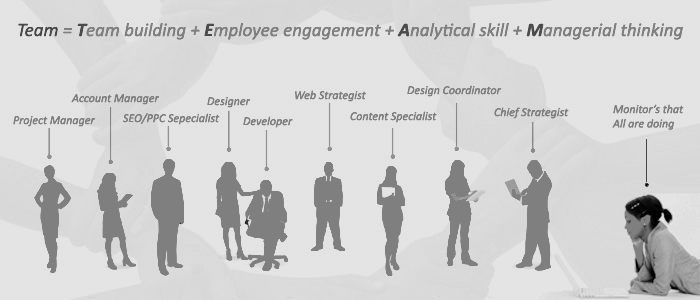 SEO.Com.Pk is a highly dedicated company that is personified as a single tree with all shiny and glorious green leaves with fruits as well. So the company considers its team members or personnel as its real asset. Here we have different departments designed as per the requirements to meet the growing needs of all sorts of direct clients, partners and resellers. We are working in the areas of Web development, Search Engine Optimization, Social Media Marketing, and Pay per Click (PPC), Advertisement Campaign, Content Marketing and lots more.
Same is the case with organizational hierarchy and the different teams that we have categorized on the basis of work. These professionals in fact work together for the boost of client's business and our reputation. But they also work for independent projects if the client's or the partner company's requirements are met with only one or two services.
SEO (Search Engine Optimization) Department
We have a dedicate team of search engine optimization technicians who know all their skills so well. They have a vast range of experience of holding and prospering the business of all categories of clients. Whether small, medium or large business entities! So, we have highly talented and experienced staff members as well as fresh blood heree. These guys aspire to be on top of their career with what they are learning here with works on new algorithms of Google and rest of the search engines.
Social Media Marketing Team Department
Though it seems a parallel job for both SEO and SMM teams but it is not the case as the advancements in the digital marketing world has changed the requirements. Now the social media campaigns are run independently by group of highly proficient experts at our company. A good business setup needs its acceptance and presence on social media that is used by all sorts of people. So, they can turn out to be your potential customers or clients. It is a way that our SMM experts will make pages, posts and will promote your client's products or services in direct or indirect manner.
PPC Advertisement Experts
We have bunch of great professionals who have adopted an expert level training and research in how to display the best ads for earning the consumer responses with best strategies. PPC Ad Management is a whole science and we have to understand what is really going to be displayed as an advertisement for all good reasons. Our PPC Experts will evaluate the competitors and how they perform and then we will suggest your client a real deal. Even you can hire a single professional or a whole team for specific PPC Ad Management Campaign.
Content Writing Department
SEO.Com.Pk is not deficient of the major role players who are the content writers in the digital marketing. Here we have some ace writers who know how to write website content, articles, blogs, press release, social media posts and lots more. They know the usage of keywords and SEO all in alignment. They always do proper research and evaluation before starting a writing program for any set up. So they can perform individual duty to your requirement as well they are part of SEO and SMM teams with a all joint ventures.
Web Development & Design Team
We have a great number of website designers, developers, graphic designers and others for all the requirements that our clients ask to us. Even we can offer our web development and graphic designing services to our partners, resellers and can provide the dedicated services as well. Our development team is well versed with SEO trends by Google and other search engines and that is why we are proud of all our staff members with proven track records of best performances and the authority that it has given to us as well.